Assessment & Progress
Given the increasing complexity of need of our young people, we have revised our assessment systems. We are committed to observing, recording and evaluating our pupil achievement in order to be clear about:
• where each young person is;
• where we expect them to be;
• how we intend to support them to get there.
Having consulted with the young people, parents, therapists, school staff and governors, we have agreed the a set of key outcomes (Click here)necessary for our students to succeed in the wider community and into adulthood. We are going to use a range of measures to systematically track key academic, social and physical development for each individual. We will call this our Holistic Assessment Toolkit or HAT: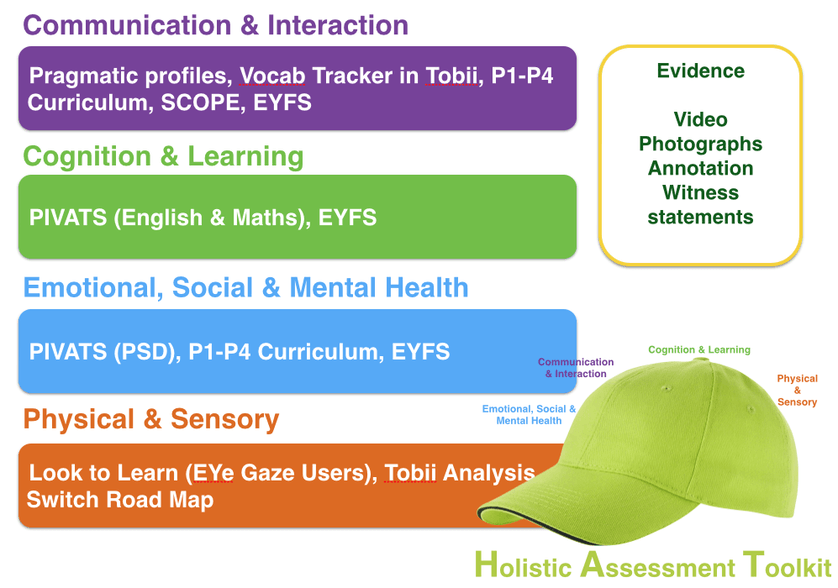 What is 'expected progress'?
Following analysis of 11 years of data from our own pupils, we have concluded that our expected progress, is broadly equivalent to the DfE Progression Guidance 'Upper Quartile' and used to be called 'outstanding' progress. Therefore, Richard Cloudesley 'expected' progress exceeds national expectations.


The scores in each table above represent the expected amount of progress over one year
e.g. If a student is working at p7 they would be expected to make 0.55 of a reading level from September to July.
What about a learner's wider development?

Most of our young people have additional communication needs and require specific AAC interventions and scaffolding, for example many use PODD communication systems, eye gaze technology, and Makaton / Tassels signing. Young people have a communication plan that is written in partnership with speech therapists, teachers and parents. It describes their current function, and gives learning requirements and suggested strategies to move them forward. A pragmatic profile (questionnaire) captures the range of communication functions and competences the young person is showing at home and in school at this moment in time. This information can be scored and used to identify specific aspects that need to be taught. The pragmatic profile can then be completed again to show progress.

To support identification of next steps and to track progress for our switch users we also use The Switch Progression Road Map and for our eye gaze users the Look to Learn activity record log.
How do we evidence learning?

Progress is evidenced through annotation, photographs and video which is in Pupil Progress Folders, and analysed using the CASPA system. This allows comparison of progress across schools, and between groups of children within our own school. The P1 – P4 curriculum folders capture the progress for the cohort of learners who remain within this parameter.
How do we accredit learning in the sixth form?

In the Sixth Form students build on prior learning and work towards Asdan accredited courses.
How do we share what we have learned?

PIVATS progress in English, Maths and Personal & Social Development is shared and discussed with students and parents in annual review meetings alongside their communication plan and physical development plan. We also have termly pupil progress meetings with parents to discuss their child's individual progress and review their child's Education Health and Care (EHCP) Support Plan.

We write and share an evaluation of our data three times a year, in October, January and June. This includes a comparison of groups within the school and progress over time. It is shared with parents (during termly pupil progress meetings) and governors and informs our school and curriculum development.
Pupil progress 2016-17
We updated the presentation of our data dashboard to bring it in line with the Ofsted IDSR.